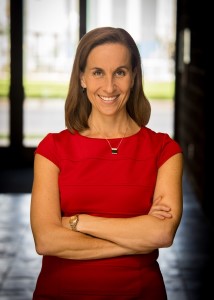 Biography
Dr Laura Jana is a pediatrician, social entrepreneur and award-winning author now on faculty at Penn State's Prevention Research Center, having previously served as Director of Innovation at the University of Nebraska College of Public Health. She has a degree in Cellular Molecular Biology (University of Michigan) and a medical degree (Case Western Reserve University). Early in her career, Dr Jana collaborated with Dr Benjamin Spock and co-founded one of the first online health/parenting websites. In addition to pediatric practice, she founded her own consulting company, was 10-year owner/operator of a private educational childcare center, received a 40 Under 40 Business Award, and became internationally recognized as a trusted consultant for parents, news media, academic and government organizations, non-profits and corporations alike. Dr Jana is currently a spokesperson for the American Academy of Pediatrics, head of Mattel's medical advisory council, consultant to Primrose Schools – a $1B US-based system of educational childcare centers, member of Ready Nation/Council for a Strong America's Speakers Bureau, and blogger for US News & World Report. As author of 31 books, her latest, The Toddler Brain: Nurture the Skills Today That Will Shape Your Child's Tomorrow, focuses on the strategic cultivation of 21st Century skills, the focus of her latest startup and more than 120 talks/keynotes (including 2 TED talks) addressing a wide range of cross-sector audiences – from the World Forum on Early Childhood, Delhi Public Schools, and Early Childhood Australia to the US Chamber of Commerce, the World Bank, and the British Parliament.
Evidence-to-Impact Collaborative Team
LET'S STAY IN TOUCH
Join the Evidence-to-Impact Mailing List
Keep up to date with the latest resources, events, and news from the EIC.